If you can't string two sentences together, you're going to have trouble as a marketer, period. Content marketing will be even more challenging. That said, you don't need to be Shakespeare to create truly effective content marketing.
Here are some factors beside the "quality" of your writing that will impact your content marketing's effectiveness.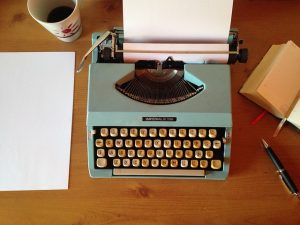 Links
In and out, are a great way to increase your reach.
Length
Be long, be short. Most importantly, be useful.
There are instances when a long-form, in-depth article make the most sense – most often for prospects who have moved a considerable way through their buying process. They will be most interested in the multi-thousand word reviews, comparisons, etc. that someone just starting their research may find overwhelming. Those folks will be more interested in content they can digest quickly since they're still casting a wide net in their search for the best solution.
Sorry not to have a word count for you: it really does depend on your audience and your offering, so don't be afraid to experiment.
Title to Attract
Cheeky can work. So can super-descriptive. Test both to see which your target audience really prefers.
Share Yourself and Others
Share your own content and don't be shy about sharing the same content more than once. to say that social media streams are fleeting is like saying water is wet.
Make it easy for other to share with buttons at the top and bottom of each article. Bottom is important because folks are likely to share a piece they like just as they've finished it. Top is important because, for better or worse, a lot of content gets shared without having been fully consumed by the sharer.
Images Matter
Always include an image. More than one if your content is longer. It breaks up the content and makes it more digestible.
Headlines and Subheads
Speaking of digestible, break your content up with headlines and subheads, as well as images.
General Legibility
Use bulleted lists, simpler language, shorter sentences and larger fonts. (Especially for older audiences.)
Get the Tech Right
If your page is slow to load, your content is doomed. Work with your tech team to make sure site performance measures up.
Get more valuable worksheets and insights like these delivered to you.
Sign up and we'll send you great info once a month.
Privacy Policy (a.k.a Our Lips Are Sealed)