As many of you know, I presented this past weekend at WordcampNYC, the WordPress-focused gathering of tech geeks, marketers, and small business owners interested in digital marketing. It was a great experience, and though we typically focus on content marketing, digital strategy, and web development in our Resources pieces, I hope you'll indulge a broader view today as I look at why my WordcampNYC experience was so great. Three main themes struck me as I thought about the weekend on Sunday night.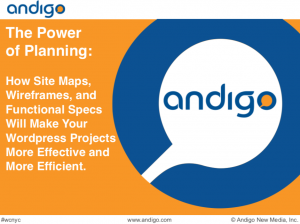 Networking
Let's face it; networking is the reason most of us attend and/or speak at events like this. We want to meet people who can become our clients, can introduce us to clients or who can become or introduce us to the resources and outside expertise we need to stay relevant to our clients.
I certainly went into the even with this in mind and Wordcamp did not disappoint. I've already had great conversations with folks who are speaking the same language and with whom I expect to stay in touch over a long period. Whether these networking relationships ever turn into collaborations or referral partners is a different question, but it does bring the conversation around to the other perspective.
That is, the perspective of the folks you've just met. If you're professional and approachably human, you have likely just positioned yourself as an interesting resource, perhaps an expert, maybe even as something of an opinion leader.
That's not just a networking win; that's a marketing win.
Lead Generation
Walking into a conference like this with grand expectations of signed contracts is usually a recipe for disaster. You won't just be disappointed – you'll likely push hard enough that you'll ruin the networking opportunities you would have had. (Of course, if you're an exhibitor or sponsor, the equation is quite different.)
However, if your message is a great fit for your audience, you may still find yourself with great and immediate opportunities presenting themselves. This is exactly what happened to me this weekend. We've already had conversations with three potential clients with "shovel-ready" projects (remember that phrase!) that would benefit from the kind of discovery process work I spoke about at the event.
Exchange of Ideas
Finally, you can strengthen your business and your digital marketing acumen while you're winning new friends and colleagues. I had two experiences like this at Wordcamp with colleagues who take a different approach to parts of the development process. These were both eye-opening departures from our own processes and it took me a moment to beat back my initial, defensive, "Well, that's not how we do it. We've always done it this way." reaction.
The biggest lesson in all of this to me is fighting the urge that many of us have to hunker down and get our digital marketing work done at our keyboards, rather than getting out there and rubbing elbows with those with whom we're trying to connect and with those who can help us be better marketers.
(You can download a copy of the site map and wireframes template we created here, or contact us for more information about presenting similar material tailored to your team's needs.)
Get more valuable worksheets and insights like these delivered to you.
Sign up and we'll send you great info once a month.
Privacy Policy (a.k.a Our Lips Are Sealed)