Last fall, we published a brief article that include a link to our digital marketing audit scorecard.
That piece has proven to be one of our more popular posts, so we'd like to revisit the ideas raised there.
Measure Over Time
Most importantly, we should stress that a marketing audit isn't a one-and-done proposition. If you notice the scorecard includes multiple columns so you can track your progress over time. That's critical to realizing any sort of return on the investment you make in examining what you're doing.
Obviously, there are elements you aren't necessarily going to look at on a monthly or even a quarterly basis. Branding and graphic design aren't likely to change that often. (In fact, they shouldn't – you'll simply confuse your audience and ultimately annoy them and drive them away.)
But you should frequently check to be sure that the content you produce maintains a consistent voice and client-oriented perspective. That you haven't introduced any attribution gaps into your website. That your email marketing engagement rates are consistent and improving.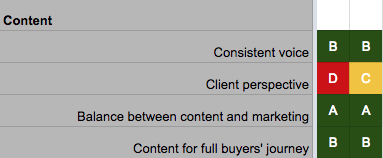 Check Process and Outcomes
Don't forget to examine your process, as well. Outcomes are critical, of course, but tracking the efficiency with which you achieve your marketing goals is an important indicator of when you might be ready to tackle a new channel or tactic – better to do few things well than many things "meh."
Take a critical eye to your marketing efforts, see where you stand now, and compare that to where you were six months ago. Double down on what you're doing well and either eliminate or improve the areas that are lagging.
Get more valuable worksheets and insights like these delivered to you.
Sign up and we'll send you great info once a month.
Privacy Policy (a.k.a Our Lips Are Sealed)