Part of successful content marketing is tailoring your message to each of your important audience segments. We came across a great example of this in talking to colleague J.C. Milam recently.
He's a part of the Vine to Glass team and we were looking at some of his sales materials recently. I noticed on the listings for their wines, among the sales materials for partners there are two versions of the sales sheet. One is for their trade partners. The other is for consumers.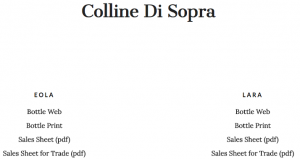 Technically, they aren't selling to consumers, so this isn't truly customized content for two different direct audience segments, but it there are two different audiences being served. (And, it should be noted, Vine to Glass is also doing a great job of taking care of their trade partners by providing tools that make it easy for them to sell to their customers.)
Getting back to those two versions of the sales sheet, they are largely the same. Both versions include the basics – what varietals the wine is made up of, what to pair it with, the back story of the vineyard, and so on. You can click the close-up images below for the full PDFs. The difference – and the real marketing meat – lies in the People Pairing Guide and the Trade Pairing Guide sections of the sell sheets highlighted below.
This is where Vine to Glass differentiates itself by talking about the wine in a truly different manner for their different audiences, they not only appeal to the interests of each audience segment, but they take conversation away from better/worse and less/more expensive and move it into territory that Vine to Glass can defend much more easily.
That's great content marketing – focused on the interests of the audience while also serving your marketing needs.
Get more valuable worksheets and insights like these delivered to you.
Sign up and we'll send you great info once a month.
Privacy Policy (a.k.a Our Lips Are Sealed)